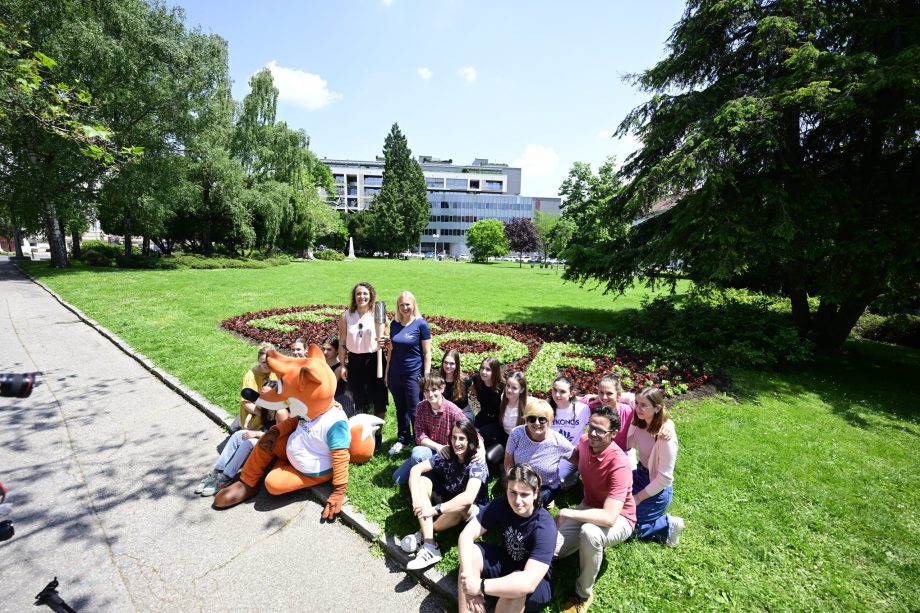 The Torch of Peace received an unforgettable welcome in Maribor and started its journey with a walk through the streets of the city.
Today was a truly wonderful day in Maribor! The Torch of Peace, which arrived from Rome, received an unforgettable welcome. At 13:15, the
Mayor of Maribor, Aleksander Saša Arsenovič
, handed over the Torch of Peace to
Slovenian Alpine skier Ilka Štuhec
. She, together with
Foksi
and EYOF 2023 Director Nataša Ritonija, walked to the Ljudski vrt stadium.
The journey from the City Hall of Municipality of Maribor to Ljudski vrt was full of enthusiasm and joy. We met people who showed their support for us and we shared moments together, taking photos and exchanging pleasant words.
On the south platform of Ljudski vrt, our ski champion Ilka Štuhec was once again joined on stage by the Mayor of the Municipality of Maribor, Aleksander Saša Arsenovič. Together they revealed their feelings about the arrival of the Torch of Peace in our city and underlined the importance of this event. It was truly remarkable to experience such a resounding and special experience, which surely made a mark on everyone present. This moment was even more special for Ilka Štuhec, who competed at the Winter EYOF in Spain a few years ago and won two gold medals.
On stage, we also saw a choreography to the official anthem of the 2023 Maribor European Youth Olympic Festival performed by the dancers of the
VIBE dance school
. With their excellent and infectious energy, the dancers impressed everyone present, as well as the students of a nearby school, who danced together in the schoolyard the dance we had taught them a few days earlier.
To make the atmosphere even more lively, we were also entertained by the popular musician Challe Salle, who is an ambassador of the Ministry of Health's Health Ambassadors project. His concerts raise awareness among young people about healthy lifestyle and the dangers of drinking alcohol and using tobacco products, which is also in line with the values of EYOF and sport in general. His music has inspired all generations.
We are grateful to all of you who joined us today, both on the way from the city centre to Ljudski vrt and at the event itself. Your presence was invaluable and showed the importance of unity and support. We would also like to thank the Ministry of Cohesion and Regional Development for its cooperation and support for the event.
The path of the torch of peace is only just beginning. The torch will travel to nearby municipalities and primary schools in Maribor to spread the message of peace and inspire people.
Thank you for being part of this unforgettable moment. Stay tuned for upcoming events!