The EYOF Maribor 2023 logo presents Maribor as a connected, dynamic and sporting city. It is the No. 1 football city in Slovenia, dressed in purple. It is a city on the banks of the Drava River, enriched with the Pohorje Mountains and numerous hills, dressed in the beautiful colours of nature.
Maribor is a city with a capital M and a big heart for sports.
Maribor – One city, one heart.
With its variety of colours, the logo emphasizes the unification of several European nations in a multi-sport event in the Olympic spirit, while the drops symbolize the effort that is required for achieving top results.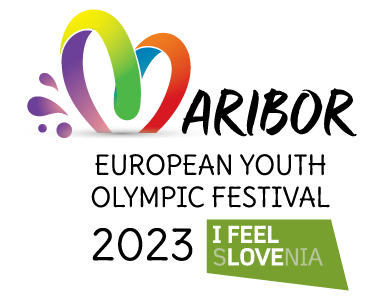 #Support and encouragement
Foksi
Foksi is a lively, crafty and shrewd fox. You may have met him as the official mascot of the Slovenian Olympic Committee, but this time he also came to cheer in Maribor for the European Youth Olympic Festival.
He has an indomitable spirit and has been passionate about sports ever since he was a baby cub.
Foksi is a loyal and enthusiastic fan, whose energy and playfulness often lead to innocent pranks and jokes in the company of fans. His appearance aims at promoting sport values and a healthy and active lifestyle in harmony with nature.
Thanks to his determination and perseverance, he is now an indispensable support and encouragement to our athletes.