Diversity within short distances
Slovenia might be among the smaller countries in the world, but what it lacks in size, it makes up for in its diversity. In fact, this green country (over 60% is forested) is the only European country where the Alps, the Mediterranean, the Karst and the Pannonian Plain meet. This results in
immense diversity within short distances
, which comes in handy, as it will take you only two hours to drive from the capital to the most remote corners of the country. Here, you'll find a number of things to do, including
active holidays
and
exploring nature
,
pampering at spa resorts
,
cultural spots
and
superb gastronomy and wines
.
Slovenia has a sporting heart
Slovenia represents
a natural playground with an astonishing diversity of terrains
, which invite you to spend time outdoors; be it in the mountains, among the rolling hills, on the coastline and in the sea, in the green forests, by the rivers and lakes or even in the caves. Unique and unforgettable active adventures are guaranteed, no matter the season, which reflects also in the fact that Slovenia is home to many world-renowned athletes and a great host of major sporting events. Cyclists
Tadej Pogačar
and
Primož Roglič
, basketball player
Luka Dončić
, sports climber
Janja Garnbret
and many other Slovenian names in the world of sports fill the headlines of the world media and push the boundaries of the possible. Their incredible achievements make some people believe that Slovenian athletes come from another planet, but they've guessed it wrong: they come from heavenly beautiful Slovenia, a small green country in Central Europe, with
a big sporting heart
.
Top hints for exploring Slovenia
Slovenia offers a captivating blend of natural beauty, cultural heritage, and unique experiences. Whether you're exploring the enchanting lakes, venturing into underground caves, or discovering charming towns, Slovenia is sure to leave you with lasting memories. We have prepared a selection of top hints for exploring Slovenia and to make things easier for you, we've listed them as an itinerary that kicks off in Maribor.
Embark on your adventure by commencing your journey in the captivating Styrian capital of
Maribor
, where a truly extraordinary sight awaits you –
the world's oldest vine
. This remarkable vine, boasting an impressive age of over 400 years, stands as a symbol of the city's rich viticulture heritage. Immerse yourself in the wine culture of Maribor by visiting the Old Vine House, where you can delve into the art of winemaking and sample a delightful selection of exceptional local wines. As an added highlight, this year Maribor proudly hosts
the European Youth Olympic Festival
, making it an even more vibrant and dynamic destination for sports enthusiasts and spectators alike.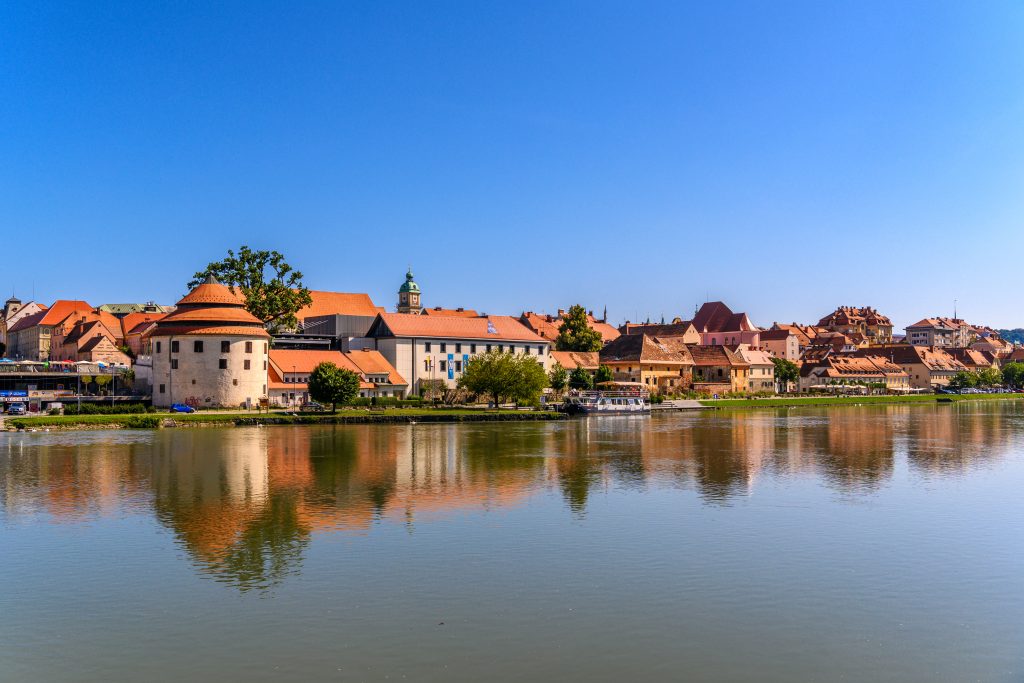 Andrej Tarfila, Slovenian Tourist Board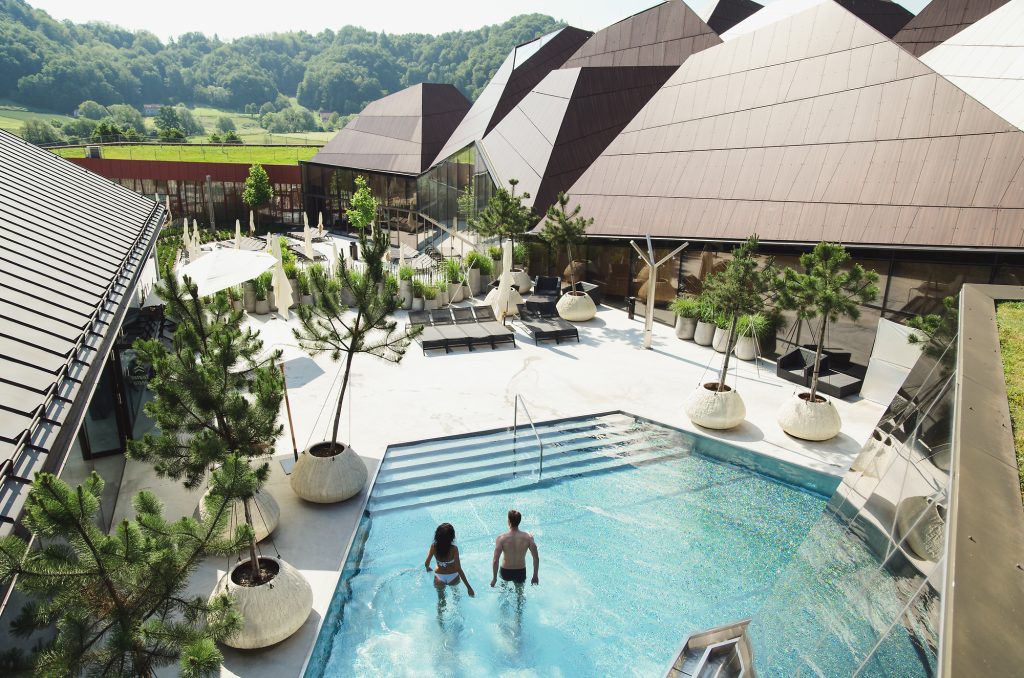 Nikola Jurišič, Slovenian Tourist Board
If time allows and you'd like to experience Slovenian-style pampering, then a visit to one of
the spa resorts
in Thermal-Pannonian Slovenia is a must. You can choose just the right health resort for you according to the region or according to what your body needs, what your inner self wishes, and what kind of a getaway you and your family expect.
If you lack time, continue your journey westwards, to
the captivating Logar Valley
, a mesmerizing glacial valley nestled in the heart of the Kamnik-Savinja Alps. Immerse yourself in the serenity of this idyllic paradise, where verdant meadows, enchanting waterfalls, and tranquil hiking trails await your exploration. It's the ideal destination to escape into the embrace of nature's beauty and create unforgettable memories.
But there's more to discover when it comes to the Kamnik-Savinja Alps: 
the breathtaking Velika Planina plateau
, famous for its traditional architecture, picturesque wooden herder's huts, and awe-inspiring alpine vistas. Indulge in a cable car ride, meander through the meadows on a rejuvenating hike, and immerse yourself in the region's rich local heritage. And if you're feeling curious, why not try your hand at milking a cow? This unforgettable experience is part of
the Slovenia Unique labelled
experience.
Continue your adventure in Slovenia's capital,
Ljubljana
. The city, which was named
the Green Capital of Europe
in 2016 and selected
the European Best Destination of 2022
, boasts a charming old town with beautiful architecture, including the creations of Slovenia's great architect Jože Plečnik, which have been
listed among UNESCO heritage sites
. Stroll through its picturesque Old Town, where history comes alive amidst quaint streets and colorful buildings. Make your way up to the majestic Ljubljana Castle for panoramic views that will take your breath away. Indulge in the city's lively cafés and top restaurants. Don't miss out on the opportunity to experience the city's rich cultural events, adding an extra layer of excitement to your visit.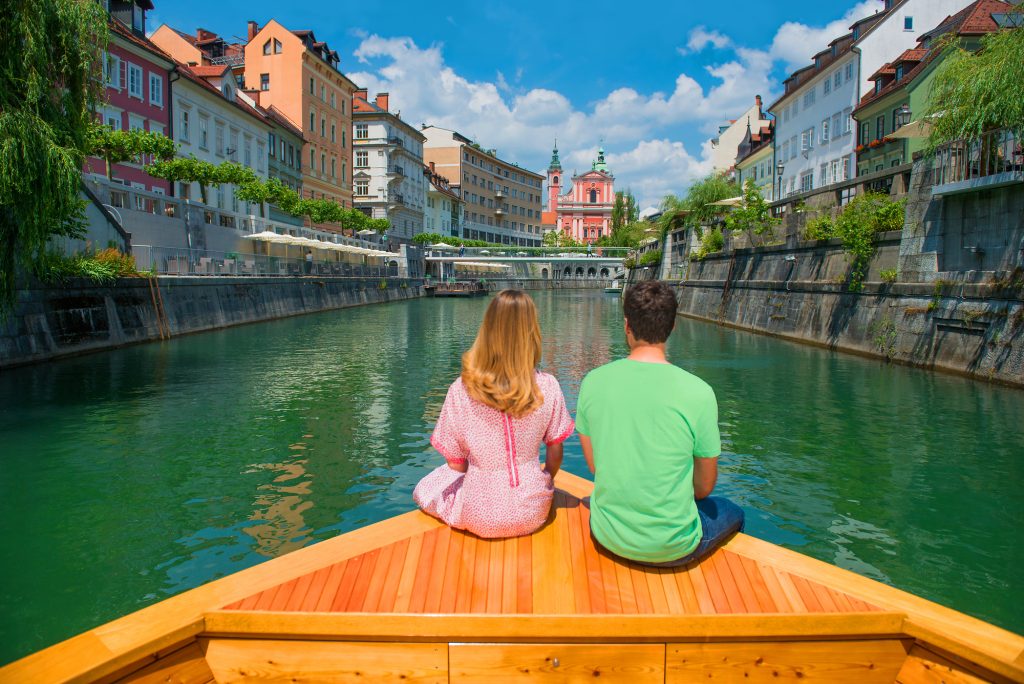 Nea Culpa, Mankica Kranjec, Slovenian Tourist Board
Did you know that Slovenia features as many as 13,000 caves, with new ones being discovered all the time? A stop after Ljubljana will definitely show you the splendours of this area:
the Postojna Cave
, the biggest cave system in Europe, will greet you with majestic stalactites and stalagmites – not to mention Postojna's most iconic inhabitant; the famous 'baby dragon'. Embark on a thrilling train ride that takes you through the vast chambers of this mesmerizing cave system, delving deep into its mystical depths. Get ready for an unforgettable adventure as you bear witness to the sheer magnificence of one of the world's most astounding caves. If time allows, stop also at
the UNESCO-listed Škocjan Caves
.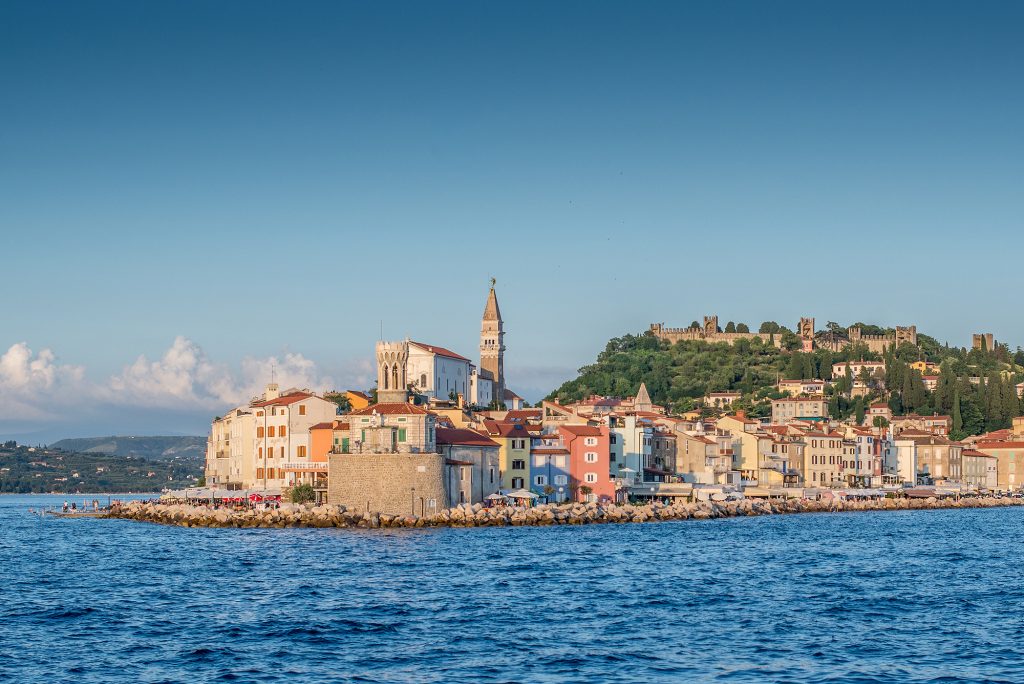 Ciril Jazbec, Slovenian Tourist Board
Next stop is the Slovenian coastline. It is modest yet beautiful, with a handful of sun-drenched coastal towns famous for their production of wine, olive oil and salt. Of Slovenia's three main seaside towns – Koper, Izola and Piran – it is Piran that is most impressive. With its Venetian Gothic architecture, Piran's Old Town is one of the best-preserved historical towns anywhere in the Mediterranean.
If you move a bit further, in the hinterland, you will soon discover that the adventure even awaits underground. Be sure to also explore
the Piran Saltpans
, where you can delve into the traditional art of salt-making. Immerse yourself in the captivating process as you discover the secrets behind this ancient craft. Prepare to be fascinated by the harmonious blend of nature, tradition, and sustainability that make the Piran Saltpans a truly unique destination. If time allows, visit the open-air Lepa Vida Spa, located on the very spot.
As you continue your exploration, you will now venture into the western part of Slovenia, beginning with a visit to
the renowned Lipica Stud Farm
, the historic birthplace of the world-famous Lipizzaner horses. Embark on a delightful carriage ride through the enchanting surroundings, allowing you to immerse yourself in the tranquil ambiance of the stud farm, and delve into the rich heritage of breeding and training these iconic white horses, which can also be found on
the UNESCO's Representative List of the Wolrd's Intangible Heritage of Humanity
.
Next on your itinerary is
the magnificent Soča Valley
, celebrated for its breathtaking emerald green Soča River and an array of thrilling water activities. Dive into the pristine waters, indulge in exhilarating adventures, and soak in the picturesque surroundings of this nature lover's haven. Moreover, the Soča Valley has blossomed into a gastronomic hotspot under the renowned
chef Ana Roš
, who has artfully combined the valley's natural splendours with exceptional gastronomy and earned
Hiša Franko
two Michelin stars.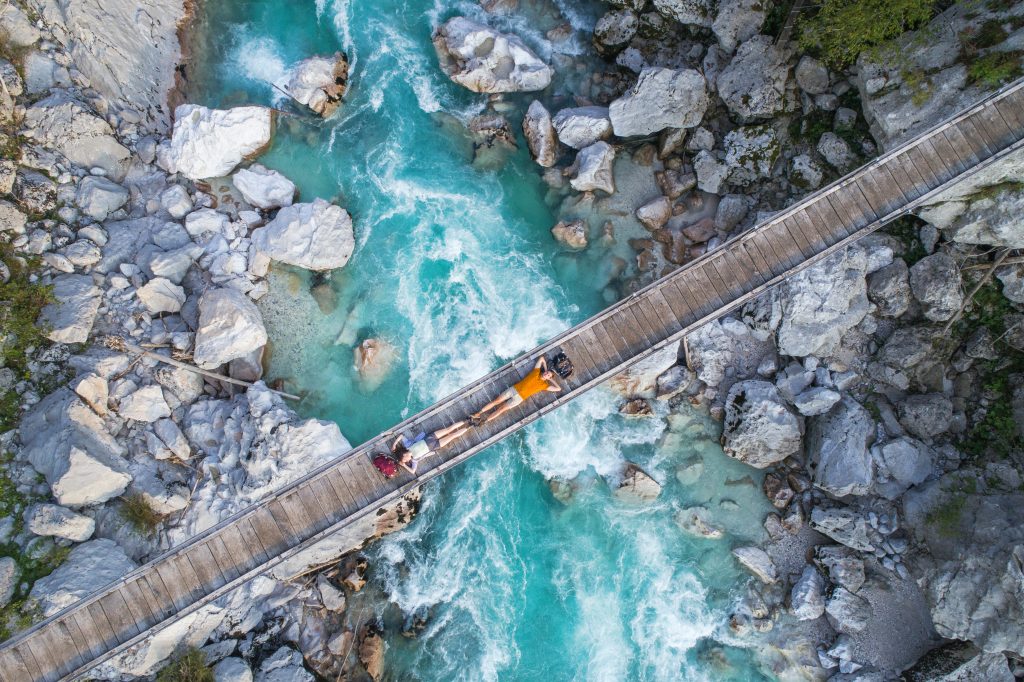 Jošt Gantar, Slovenian Tourist Board
As your grand tour of Slovenia draws to a close, a final enchanting destination awaits: the captivating
Lake Bled
. With its mesmerizing emerald-green lake, an idyllic island adorned with a picturesque church, and a medieval castle majestically perched on a cliff, Lake Bled is an absolute treasure. Embrace the magic by embarking on a boat ride to the island, allowing you to experience its serene beauty up close. Alternatively, embark on a hike up to the castle, immersing yourself in the rich history and enjoying panoramic views of the surrounding landscape. And if relaxation is on your agenda, simply unwind and bask in the breathtaking scenery that Lake Bled so generously offers. It's the perfect finale to your Slovenian adventure, leaving you with memories of unrivalled beauty and serenity.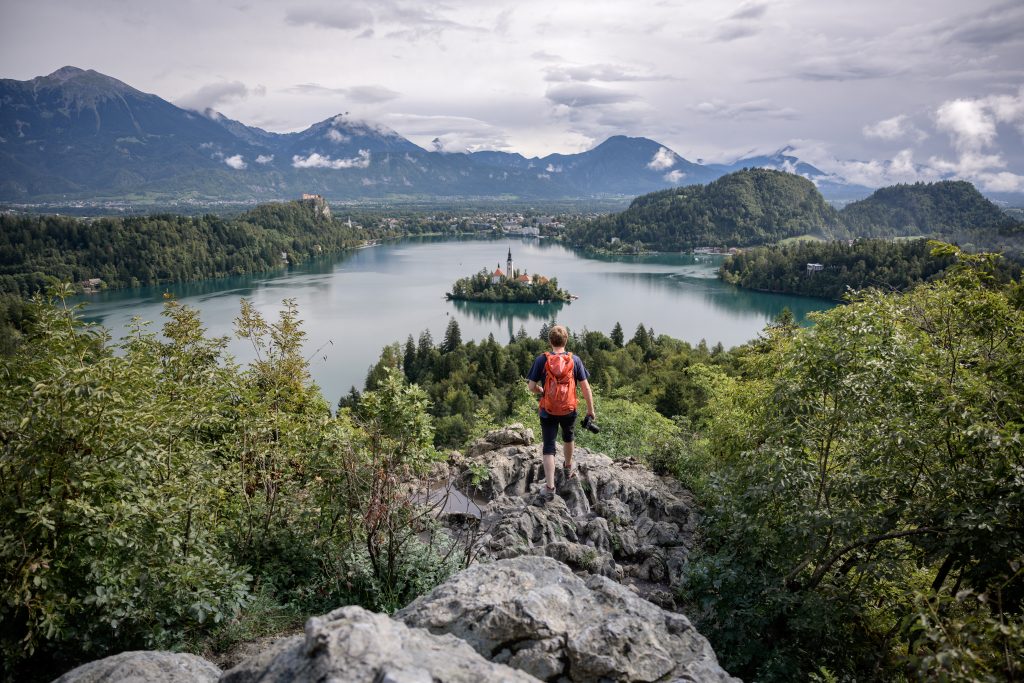 Iztok Medja, Slovenian Tourist Board
If you are keen on exploring the treasures of UNESCO in Slovenia, note that there are 2 UNESCO natural sites and 3 cultural sites. As many as 6 traditions can be found on UNESCO's Representative List of the World's Intangible Heritage of Humanity.
For those with a keen interest in uncovering
the UNESCO treasures of Slovenia
, you'll be delighted to know that there's a myriad of remarkable sites that are absolutely worth an additional turn on your journey. Among them, you'll discover two UNESCO natural sites (Škocjan Caves and the Krokar and Snežnik-Ždrolce primeval forests), showcasing the breathtaking beauty of Slovenia's natural landscapes three cultural sites that offer a glimpse into the rich history and heritage of the country (Idrija and its mercury heritage, The Ljubljana pile-dwellers and Works by Jože Plečnik in Ljubljana).
But the UNESCO wonders of Slovenia don't end there! Prepare to be immersed in the vibrant tapestry of Slovenian traditions, as six of them have been proudly inscribed on UNESCO's Representative List of the World's Intangible Heritage of Humanity. From the lively and colorful carnival door-to-door rounds of Kurenti in Ptuj to the centuries-old art of bobbin lace-making in Idrija, Slovenia's intangible heritage will captivate your senses and deepen your appreciation for the cultural wealth of the nation.