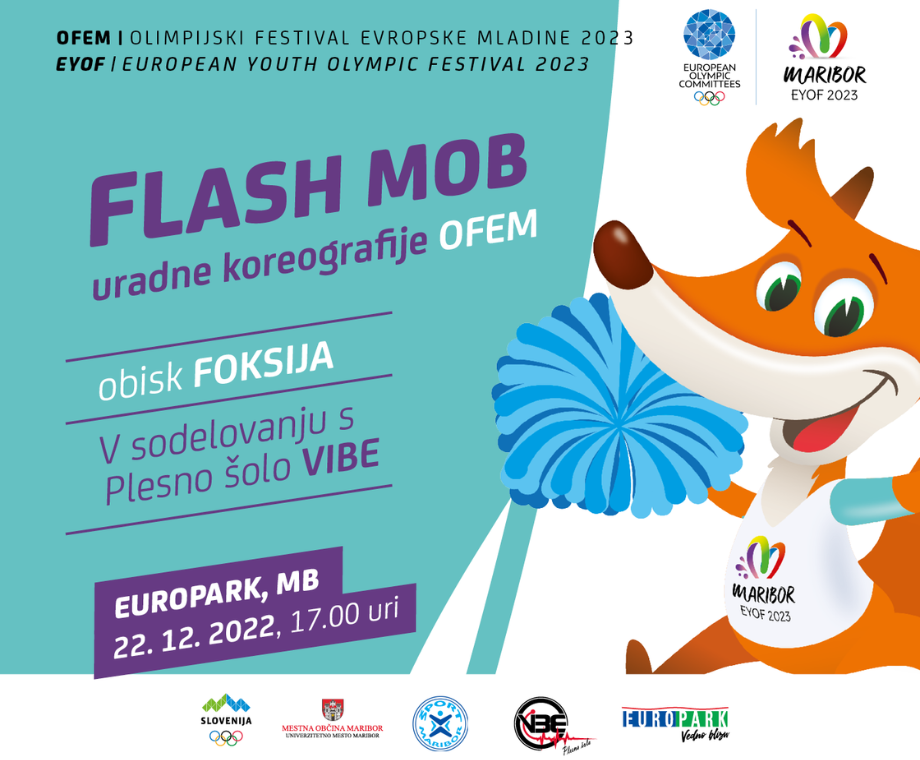 "FLASH MOB" WITH EYOF CHOREOGRAPHY IN EUROPARK MARIBOR
The long-awaited "flash mob" is coming in cooperation with the VIBE Dance School, right under the roof of the largest shopping center in Maribor, in Europark.
We invite you to join us on Thursday, December 22, 2022 at 5 p.m. in Europark for the EYOF "flash mob" event with more than 60 dancers.
In as many as three locations within the
Europark
shopping center, you will be able to see the official choreography to the EYOF 2023 Maribor anthem, which we co-created with the VIBE dance school.
The event is of a relaxed and danceable nature, which acts as a random event, so there is no planned program and moderator.
1st performance: In the central event space in front of the Hervis store
2nd appearance: Upstairs at the Ginger restaurant
3rd appearance: In the immediate vicinity of entrance 3 at the catering establishments
17.00 – 17.04: 1st performance
17.10 – 17.14: 2nd appearance
17.20 – 17.24: 3rd appearance
Come and see and maybe even dance with us in the second presentation of the official OFEM choreography, which we co-created with the Vibe Dance School. More than 60 dancers will come! Of course, our always smiling and funny Fox Foksi will not be missing either.